1500 nits floorstand outdoor digital signage totem in highway toll station
Item NO.:OD55P01
Color :Black, Grey, or as per requirements
Original Region :Shenzhen, guangdong, China
Lead Time:4 weeks after order confirmed
Application for the highway projects and the bus station ,government projects ,your best choices for the LCD display industry in China .
We can make a difference to be your best LCD digital signage industry
Sun readable Kiosk for the bus station to protect from the Sun .
Billboard for the projects orders are okay with us .
Product Introduction
OD55P01 Signage for your government projects
OD55P01 is a 55'' all weather weatherproof monitor in Portrait with floor standing . All weather sun readable, it brings a good visual and auditory enjoyment for outdoor information communication.
It's specially designed for outdoor use, Internal electronic system being a dry and constant temperature environment by intelligent temperature control system, excellent vandal proof with strong steel and aluminum structure along with safe armored glass.
Product Application
Business Organizations: supermarket, large-scale shopping malls, exclusive agency, chain shops, large-scale sales, star-rated hotels, restaurants, travel agencies, pharmacy; weatherproof lcd screen
Financial Organizations: Banks, negotiable securities, funds, insurance companies, pawnshops;
Nonprofit Organizations: Telecommunications, post offices, hospital, Houses of Worship ,schools;
Public Places: subway, airports, stations, gas stations, toll stations, bookstores, parks, exhibition halls;
stadiums, museums, convention centers, ticket agencies, HR market, lottery centers;
Real Estate Property: Apartments, villas, offices, commercial buildings, model rooms, property brokers;
Entertainments: Movie theaters, Casinos, Ski resorts & ski slopes,
weatherproof monitor
Features
1. All-Weather outdoor adertising lcd
2. Vandal-Resistant Construction
3. Easy to Service Modular Design
4. All Weather Proof IP65 Enclosures
5. 6mm AR BondingTM-special glass
6. High-Brightness LCD Panel
7. Automatically Adjust Monitor Brightness
8. Operating Temperature -40°C To 55°C
9. Integrated heater and air conditioner
10.Intelligent surveillance
Standard Configuration for OD55P01
Display

Panel Size

55"

Aspect Ratio

9:16 Portrait

Resolution

1920*1080 (HD)

Brightness

1500 cd/m²-2000cd/m2

Contrast Ratio

3000:1

Viewing Angle

178° horizontal / 178° vertical

Display Area

688.4 mm x1217.6mm

Video Interface

VGA HDMI

Audio Interface

AUDIO IN

Brightness Control

Automatically light sensor



Embedded PC

CPU

Intel ATOM D525 Dual Core 1.8G

Memory

2 GB DDR2 800 MHz

Display Card

NVIDIA GT218 512M Independent Video Memory

Hard Disk

250 GB

Interface

12V DC-in, Mic/Audio In, USB 2.0 Port(4), HDMI Port, VGA Conector 10/100/1000 Adaptive Ethernet

Operation

Operating Temperature

-40°C to +55°C

Operating Humidity

5%to100%

Protection Rating

IP65

Power

AC 108-115V,50/60Hz

AC 208-240 V, 50/60 Hz

Power Consumption

1.5 kW (Mainly for AC starting)

All in One Unit

Dimension (WxHxD)

2100 mm x 848 mm x 255 mm (Exclude back haging)

Packing Size

2240mm*980mm*460mm

Weight

196 kg

Glass

6mm High light transmission, anti-reflective, tempered, safe glass

Air Conditioning

1000W Cooling Capacity and 800W Heater



32" all weather full hd media player vga
55' outdoor Interactive LCD Wifi Digital Signage Displays
ip65 42" all weather advertisement product/ lcd displayer kiosk manufacturers /outdoor digital lcd displays
All for the government projects and the commercial buildings and other any kinds of applicaitons

Optional

1. Built-in PC

2. Touch screen

3. Remote information release system

4. Environmental monitoring system based on Internet

5. Anti-Graffiti Protection on enclosure

6. Customized casing color design and customized shape

Available Color

LCD Brand

Display solution

Structure

Applicaion cases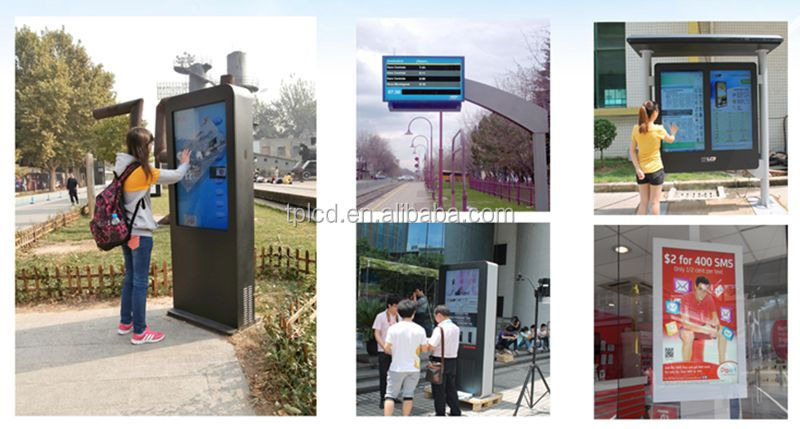 Certificates
Hornors
Above specs can be adjust according to customers' needs. More detailed info please check with tplcd03(skype)
We can make a difference to be your best outdoor LCD Dislay supplier here in China .
ODM &OEM orders are always welcome to us !